As seen in Sublime Garden Design
Just about 2 weeks away until setting up for our garden in partnership with the Washington Nursery and Landscape Associationat the 2013 Northwest Flower & Garden Show. The show runs from February 20th-24th at the Washington State Convention Center. For garden geeks (we know who we are) and brown thumbs alike, the show is the unofficial kick off to spring; the sights, scents, textures and thousands of blooming trees, shrubs and flowers scream (albeit a bit early), "Spring is almost here!" And boy, aren't we ready for it?
For us as garden creators, it is a chance to step outside of our box and do something that we have never done before; to experiment and have some fun. Dubbed 'garden theater', the gardens are the hard work and creative offspring of many more people than you can imagine and will no doubt offer inspiration, lest we take them too literally. It is a show, after all!
Our 2012 show garden, "The Resonating Sounds of Nature~ Finding Peace and Solace in the Garden"
Hopefully you can take away an new idea or two that can be implemented into your own personal garden, attend one of the many seminars, including one from fellow horties Karen Chapman & Christina Salwitz (authors of the soon-to-be-released book 'Fine Foilage') on "Bold and Elegant plant combinations", or another on how to make craft cocktails from your own garden from Amy Stewart (now that's what I'm takin' bout). There is something for everyone and I have little doubt you will come away uninspired, and without a plant… or twelve.
The show
This year's Northwest Flower & Garden Show theme is titled, "The Silver Screen Takes Root, Gardens Go Hollywood". Our take on the Hollywood theme was to create garden that not only captures the glamour of Hollywood, but that like a good movie, tells a story using many of the cornerstones of good film making: characters, plot, dialog, composition, special effects, sound and lighting.
The plot
Like good movies do, we hope to captivate our audience and draw them in to our garden (figuratively speaking, as you can not actually enter the garden); similar to how you feel when you get lost in the plot of a movie, becoming the character that you are watching. Good movies also always have an interesting location, some sort of conflict, mystery, drama, and an underlying message. The underlying message of 'Living Amongst the Stars', is that we are all part of something much bigger: a universe that connects each and every one of us. Star-gazing changes our perspective and helps us to see that we, and the problems we sometimes perceive as being so large, are minuscule in the context of an infinite universe.
The main character: the garden
Our garden is a contemporary outdoor space- an intimate garden for two- to get away, and become one with the space, to become a different character than our 8 to 5 selves; one that is deeply grounded in the present moment and not in the busyness of life and its to-do lists.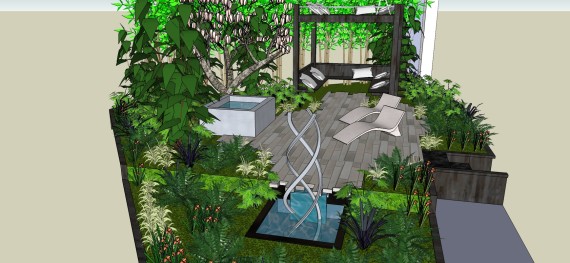 Living Amongst the Stars, the Garden Takes Center Stage
The cast
The garden features a cozy cabana with a seating area below and a star-gazing deck above. All the wood for the cabana and our walls is being generously provided to us by Mukilteo Cedarand built by master wood-worker Fred Moore.
Imagine sitting back and relaxing in a stainless steel custom spa from Diamond Spas. There really is no one else (that we know of) that does spas like Diamond Spas does spas. They are not just luxury home spas, but elegant works of art.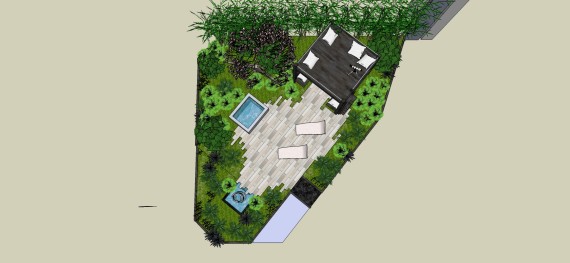 Living Amongst the Stars
The patio will be constructed using long linear concrete pavers from Stepstone, a Los Angeles- based company. When it comes to pavers, there is really nothing else like them in our area so we are excited to be able to show people a unique option for paving.
The white concrete chairs were actually the inspiration for the garden. Last year while having dinner with a friend of mine (uncoincidentally, right before the last show) she showed me some photos of the chairs her husband has been creating. I fell in love with them and once I heard of the Hollywood theme we decided we had to build a garden for those chairs to be in.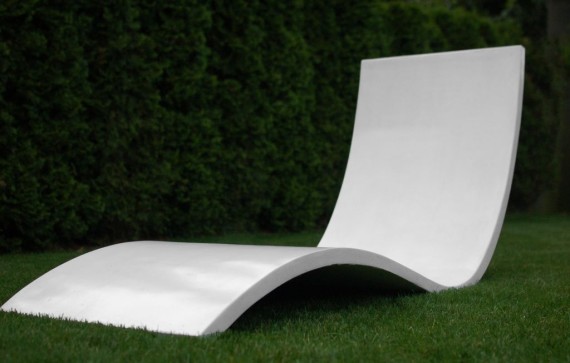 White concrete chairs by Matt Roberts
The main focal point of the garden is the 'Kismet'steel sculpture from Terra Sculpture, created by artist Jennifer Gilbert Asher in collaboration with metal artist Mario Lopez. This piece is 84" tall and weighs close to 200 lbs. It is powdered coated in a silver metallic which will stand up to toughest outdoor conditions. The sculpture will be nestled in an up-lit basin of water amongst recycled tumbled glass from Bedrock Industries.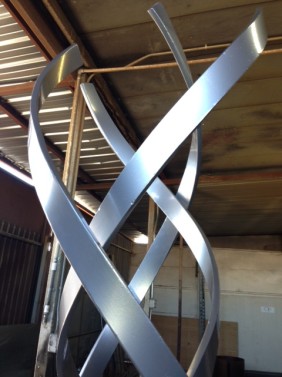 'Kismet' metal sculpture by Terra Sculpture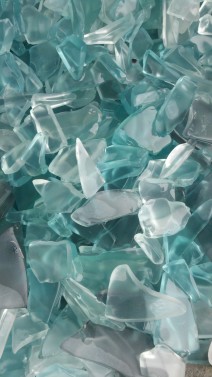 Tumbled recycled glass from Bedrock Industries
The stars
The plants are true Stars of the garden- it is a Flower & Garden show after all! Without them all the other elements would lack the context in which to be enjoyed. Our plantings will be oh-so-lush-ious…from the 18′ tall Magnolia being brought in from Big Treesin Snohomish, to the three huge Angel's Trumpets I salvaged from my mom's garden in early fall, to the Tasmanian tree ferns and many, many, other plants. Think lots of green with hints of lime, accented with flowers that range from creamy yellow to fiery orange. I could go on and on about the plants but I'd probably lose you so I will stop there.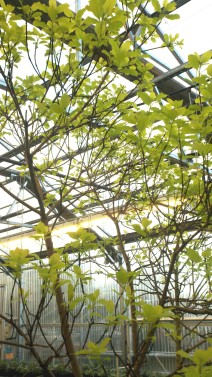 Golden Smoke Tree leafed out already at LWIT!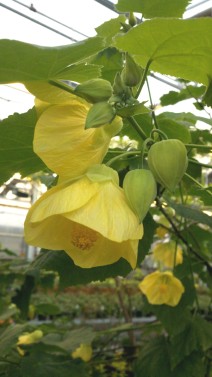 Yellow Abutilon being nurtured by LWIT
The lighting and special effects
We are giddy about our lighting by Luma Stream. Now, we can't give away everything (that would ruin the story) but I will tell you that out lighting will be ultra-cool, all controlled by an ipad, programmed by a company called Intuitive Integration.
The crew
How could I finish up without mentioning all of the people that it takes to put together a garden like this? I am again amazed at the right people that have shown up at the right time, eager to help and be part of this garden. From our plant procurement guru, Kirsten Lints, to our wood worker, Fred Moore, and the generous Bill Neidermeyer from Mukilteo Cedar, to the staff and students taking care of our plants at Lake Washington Institute of Technology (my alma mater) and Windmill Gardens, to the many, many (all to be named in a later post) nurseries like The Bark & Garden Center, Western Nursery Sales and Wetlands & Woodlands who have offered to loan and/or donate plants to the garden.
And that doesn't even come close to everyone- there's the innovative minds at Luma Stream lighting and Intuitive Integration, the guys that really do Rock at Marenakos Rock Center, the people at Sawdust Supply Company, WSNLA and the entire volunteer crew that will be taking part in the set up and take down- We could not do this without you!
To everyone who has donated and loaned items to us for the show we want you to know how much we appreciate not only your generosity but your faith in us to do you products justice- I hope we do you proud! And, finally I must give a big thank you to Cyle, Janet and the many others that are the nuts and bolts of the Northwest Flower & Garden Show, for without their hard work and dedication there would be no show for all of us to enjoy!
There are many more people whom we will stil want to thank but I will save that for a post for a later date as my 60 seconds is almost up and the music is starting to play…. And the garden hasn't even been built yet, but in my head many times over.
That's a wrap! We hope to see you at the show!